Jane Bosman
San Rafael Valley Grass-fed Beef Customer
About a year ago I moved to Tucson and one of the first and finest people I met was Sidney Spencer. Her amazing beef has nourished my body and her kindness has nourished my soul.
About a month ago I started giving her incredible dog food to my 9 year old lab The results are impressive People are commenting on his lustrous coat and his muscle tone has improved too.
THANK YOU for taking care of us, this past year, looking forward to another one.
Kenneth Law-Davis
SRV grass-fed beef customer
Hi Sidney,
Finally made it through our freezer stock and into our first meal of SRV beef. It was a brisket and we used a slow cooker after browning it first with some onions. Without doubt, this was the best brisket we have ever eaten. Didn't need a knife to cut it, just a fork. The flavor was incredible. It was nice to know we were getting omega 3s and vitamin K2 while enjoying the beef, something only grass feeding can provide.
Thank you for providing such a wonderful source of healthy beef.
Regards,
Ken
Kenneth Law-Davis DC, BE, MIE(Aust), CPEng
Tess Simons
SRV Grass-fed Beef customer
We truly LOVE your meat and are so grateful we have such a perfect local rancher to purchase from ! Thank you for such an exceptional product !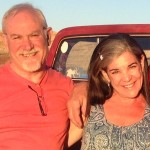 Laura V. King
We are so delighted to have have been introduced by friends to Sidney  Spencer and San Rafael Valley Grass Fed Beef!  She raises and sells locally raised, organic 100% grass fed beef, of the highest quality, so this is quite a find!
We have tried several things to date, but are truly delighting in the Summer Sausage.  We are now eager to try the Beef Tallow.
In addition to products, we learned that Sidney offers a "Supper" (gourmet lunch) and Ranch Tour on certain weekdays.  We joined up with some friends and ventured down to the ranch and had a marvelous time.
The hospitality was over the top, as were the food spreads and the oh-so-interesting tour of the ranch — a must for those who can fit it !