San Rafael Valley Natural Grass-Fed Beef
Free-Range, Grass-Fed Angus-Hereford Cattle
Since 1995
See our Facebook page for Farmer's Market Random Specials
San Rafael Valley Grass-Fed Beef 2017
Dear Customers,
Many more changes at San Rafael Grass Fed Beef – New Products, New Processor, New Gourmet Butcher, Ben Forbes, previous of Whole Foods Specialty Meats and Chacuterie – New Paleo Lotion and Soap line made from the incredibly skin-nourishing Graisse!
A long list of products can be found regularly at the Farmer's Markets but I still suggest emailing in your orders prior as I don't bring everything…plus certain cuts sell out early in the day.  Typically you can find, 3 different blends of ground chuck & sirloin, Steaks, Roasts, Brisket, Short Ribs, Liver, Pre-Formed Patties & Links, Summer Sausage, Pork Bacon, Eggs [Chicken & Quail], Pastured whole chickens.  Please check FACE BOOK to follow my schedule.  During Monsoons I often have to be horseback to check fences and water-gaps if the rains have been heavy and the rivers and streams are flowing.
Ben Forbes of FORBES MEATs est., in 1988 is an artist in the cutting room and will be introducing marinated and pre-rubbed meats from San Rafael Valley GrassFed Beef….look for his special label on my packaging.  Down the line his rubs and marinades will be offered for sale.
I call him the "Gourmet Butcher", as Ben has introduced some new fabulous cuts – Look for:  The Denver  Steak [my new personal favorite] – The Flat Iron – Chuck RibEye – Sirloin Filet Medallions – The Tomahawk will feed four and makes a Big Splash at the dinner table [it's a whole bone-in RibEye that customers say tastes like Prime Rib] – The Picaña whole or steaks [Brazilians prefer it to Filet Mignon, look it up on line] – Sirloin Flap for Carne Asada and a whole new line of beef bulk sausage blends.
I am very relieved to have a new processor where I am permitted back into the Cutting Room and can oversee the quality of the cutting and wrapping.
We're all learning the numerous health benefits of GrassFed Beef Fat [or as the French say, GRAISSE] for consumption [see BENEFITS below]….but look a little further and you will find that Graisse is healing, moisturizing and balancing to our human skin…..who knew!
It is the most like the structure of our skin with 50% saturated fats, which means that it penetrates readily and is nourishing and protects skin cell integrity.  Naturally occurring vitamins are readily absorbed and within weeks I have seen improvement in the hydration and texture of my own skin.
Because of it's skin benefits, GrassFed Tallow/Graisse has been used in skin products for 1000s of years, and in our modern times can be found in lipstick, moisturizers, eye makeup, foundation, shampoo, shaving cream, soaps & facial cleansers under the names Steric Acid, Oleic Acid, Palmitic Acid, Lauric Acid, Myristic Acid and Sodium Tallowate.
The main bit of information is that Tallow & Human Skin Sebum primarily consist of triglycerides and both have 50-55% good saturated fats so nutritional elements are easily absorbed.  The Fatty Acid profile of grass-fed beef tallow is similar to our skin sebum [which is what hydrates and waterproofs our skin].
The Ancients knew!……The word "Sebum" is "Tallow" in Latin.
Benefits of Beef Tallow for Skin
Rich in anti-aging antioxidants and all the naturally occurring vitamins listed above.
K2 is a common vitamin deficiency that causes: osteoporosis,-Alzheimer's-arterial plaque-wrinkles & cavities.  K2 tells your body where to put calcium, in your bones & teeth NOT joints!
Contains anti-microbial Palmitoleic Acid
Supports and Protects skin cell integrity
Balances – Tightens – Firms – Hydrates
Promotes skin cell regeneration
San Rafael Valley GrassFed Beef is offering:
Paleo GrassFed Soaps, Scrubs, Creams & Lotions include:
Face & Body Lotions
After Shave Moisturizers
Face Cleanser
Feet & Leg Cream – Peppermint [cooling] & Spearmint [warming]
Sugar Body Scrubs
Benefits of Beef Tallow when Consumed
Contains Stearic Acid otherwise known as Stearine which lowers cholesterol
High in CLA [Conjugated Linoleic Acid] is an anti-inflammatory and shown to reduce risk of
Heart Disease & Cancer…..It is also added to Diet Pills for weight loss.
Is good Fat to feed the Brain and help with Brain Processing
High levels of naturally occurring Vitamin A-D-E-K & K2
Correct balance of healthy Omega 6 and Omega 3s
Rich in Antioxidants
How to make Bone Broth
San Rafael Valley GrassFed Beef is offering rendered GRAISSE for cooking as it is one of only 4 stable fats that DO NOT turn into Trans fats when used in cooking and do not burn at high temperatures.
The four stable saturated, good-for-you fats are:
Coconut – Avocado – Clarified GrassFed Butter & GrassFed Fat.
Place Orders by E-Mail
I encourage you to come to the ranch and see how these beautiful animals are raised…. or enjoy a dinner and ranch tour… Enjoy a ranch tour and lunch at the Lazy J2 Ranch, serving it's delicious Grass-fed beef and farm fresh vegetables, and dessert on Mondays, Tuesdays and Wednesdays from 11am to 3pm. Call Sidney Spencer for reservations- (520) 394-0031. Click Here for the Menu
CHECK for Changing Farmer's Market Schedules
Why is San Rafael Grass-Fed beef so wonderful?
Because the ranch is large enough and has enough native Arizona grass that animals can be born there and live their whole lives eating nothing but real, native natural grasses and forbes.
The Lazy J2 Ranch, HOME of San Rafael Valley GrassFed Beef for 20 years is 7000 acres of the gorgeous, pristine grasslands of the magnificent San Rafael Valley. That is enough land to support year round native grass grazing. The animals DO NOT get hay or permanent pasture. The animals are born on the ranch and live 4-5 years just eating grass and pure water. We do NOT buy the cattle from other people, we know their medical history and treat them with respect and kindness.
Now Offering High Omega 3
San Rafael Valley GrassFed HEALTHY cooking Fat
High in LNA Omega 3/CLA/Linolec Acid/Vitamin A-E & Beta Carotene….Stable at high temperatures…..great for frying and pastry.
Grassfed fat, the real brain food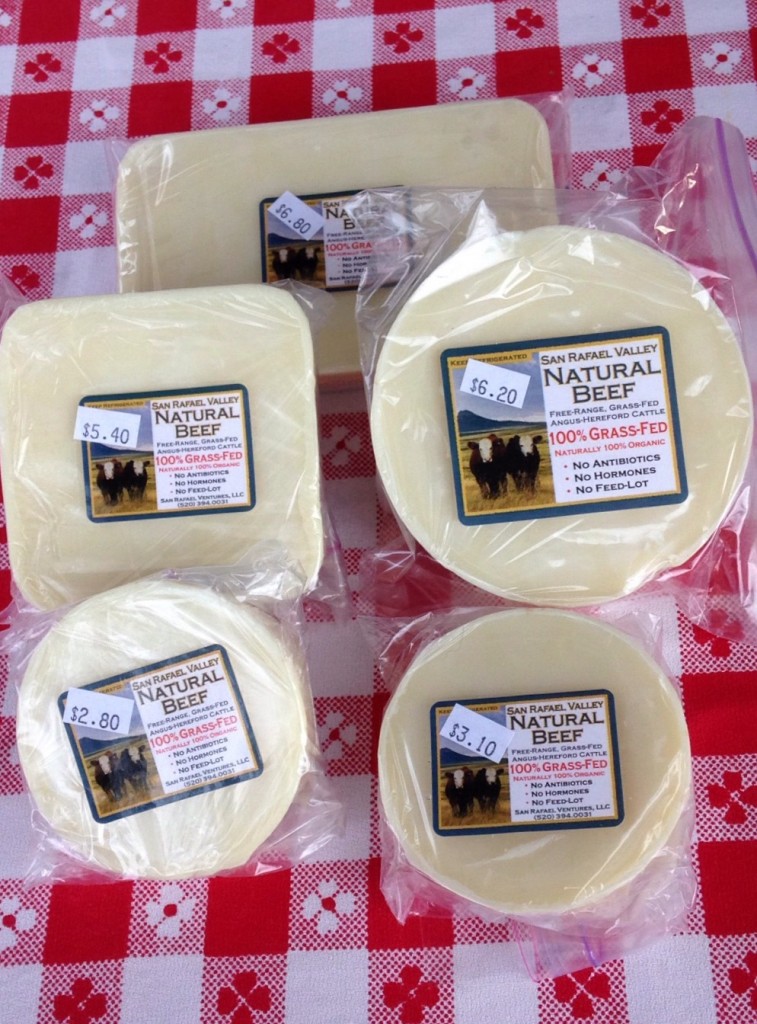 Try our Summer Sausage and Mesquite-smoked Pork Bacon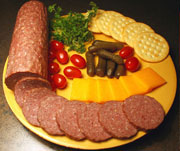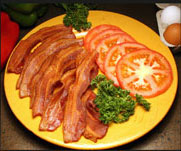 100% NATURALLY ORGANIC – ARIZONA GRASS-FED BEEF
San Rafael Valley Beef is Raised on Native Arizona Grasses that grow on one of the West's last intact short-grass prairies… and the headwater of the Santa Cruz River. A wilderness setting of rolling grasslands, towering cottonwoods and winding river beds is surrounded by towering mountain ranges that protect the valley and provide a unique setting for one of the most verdant grasslands in the SouthWest. Pure water and a unique blend of native grasses naturally marble beef and gives it a rich, robust favor.
Nothing is more ORGANIC or NATURAL than GRASS & PURE WATER
San Rafael Valley Beef is Grass-Fed and Naturally good for you. Grass-Fed Beef is full of:
CLA
Linolec Acid
Omega 3
Vitamin E
Lower in Calories
Rich in Iron
Grass-Fed food products will lower your LDL Cholesterol and is heart healthy.
Grass-Fed Omega 3 rich Fat is good for your skin, organ and brain function, as well as reproductive health.
See Independent Medical Research reports at www.eatwild.com
A recent article in the NY Times health blog, Ask Well: Is Grass-Fed Beef Better for You?NY Times Article
• No Antibiotics • No Hormones
• NO permanent pasture with fertilizer & pesticides
• NO SHIPPING saves GASOLINE & DIESEL
• SRV Beef is "GREEN" !
GRASS-FED NATURAL BEEF is ORGANIC
No Hormones, No Feed Lots,
No Long Distance Trucking,
No Antibiotics,…..only Natural Arizona Beef raised on Native Arizona Grasses
in the San Rafael Valley.
!!!! YOUR CHILDREN DON'T NEED Additives
or Artificial HORMONES !!!!
Buy beef by the pound
or in bulk…
no minimum !
Grass-Fed Beef Roasts, Steaks, Prime Rib, Brats, Briskets, Short Ribs, Chateau Briand, Filet Mignon, Beef Bacon, Top Sirloin, and Dog Food are only a few of the items available to you and your family, health food stores and restaurants.