Lazy J2 Ranch
Driving Directions
From Tucson: [Coming from the West]
Travel east on Interstate 10 [towards El Paso].
Exit #281 Arizona Highway #83 to Sonoita / Patagonia.
Head South to the junction of Az. Hwy #82 in Sonoita,
turn west [right] towards Patagonia. [12 miles from Sonoita].
Watch the speed limits in Patagonia, they are enforced!
From Patagonia
Turn south [left] on to 3rd Avenue and then east [left] on McKeown Avenue.
McKeown becomes Harshaw Road, which is paved for approximately 6 miles.
You will encounter a 90 degree curve where Harshaw Rd. [straight ahead]
becomes USFS #58, and is DIRT…
The paved curve heads south and goes to Washington Camp – Lochiel – Nogales.
Do not take the road to Washington Camp !
Take #58 due east to the SAN RAFAEL VALLEY.
The road will be dirt for the next 10 miles.
You will know it when you enter the San Rafael Valley and the sweeping grasslands.
Continue east, you will see the VACA Ranch corrals on your left and within
a mile there will be a road to the right headed south… Take it.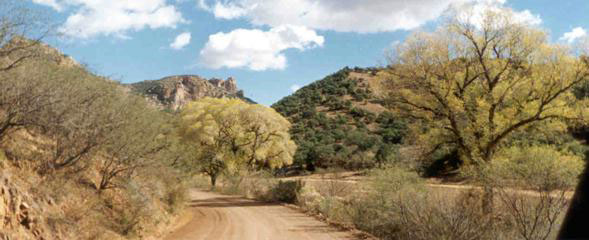 You will cross two cattleguards within a relatively short distance.
There will be 3 mailboxes on your left and a sign indicating
the KiHeKah Headquarters and driveway.
The next left, approximately 1/4 mile, you'll see a dead tree with
the LAZY J2 RANCH sign, the road dips down into the Santa Cruz River Bed.
Take this left and follow it to the Lazy J2 Ranch Headquarters…
a red and gray looking barn and corrals.