San Rafael Valley Natural Grass-Fed Beef
Free-Range, Grass-Fed Angus-Hereford Cattle
Since 1995
See our FaceBook page for Farmer's Market Random Specials
Try our Summer Sausage and Mesquite-smoked Pork Bacon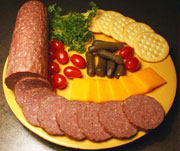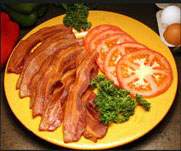 100% NATURALLY ORGANIC – ARIZONA GRASS-FED BEEF
San Rafael Valley Beef is Raised on Native Arizona Grasses that grow on one of the West's last intact short-grass prairies… and the headwater of the Santa Cruz River. A wilderness setting of rolling grasslands, towering cottonwoods and winding river beds is surrounded by towering mountain ranges that protect the valley and provide a unique setting for one of the most verdant grasslands in the SouthWest. Pure water and a unique blend of native grasses naturally marble beef and gives it a rich, robust favor.
Nothing is more ORGANIC or NATURAL than GRASS & PURE WATER
San Rafael Valley Beef is Grass-Fed and Naturally good for you. Grass-Fed Beef is full of:
CLA
Linolec Acid
Omega 3
Vitamin E
Lower in Calories
Rich in Iron
Grass-Fed food products will lower your LDL Cholesterol and is heart healthy.
Grass-Fed Omega 3 rich Fat is good for your skin, organ and brain function, as well as reproductive health.
See Independent Medical Research reports at www.eatwild.com
• No Antibiotics • No Hormones
• NO permanent pasture with fertilizer & pesticides
• NO SHIPPING saves GASOLINE & DIESEL
• SRV Beef is "GREEN" !
GRASS-FED NATURAL BEEF is ORGANIC
No Hormones, No Feed Lots,
No Long Distance Trucking,
No Antibiotics,…..only Natural Arizona Beef raised on Native Arizona Grasses
in the San Rafael Valley.
!!!! YOUR CHILDREN DON'T NEED Additives
or Artificial HORMONES !!!!
Buy beef by the pound
or in bulk…
no minimum !
Grass-Fed Beef Roasts, Steaks, Prime Rib, Brats, Briskets, Short Ribs, Chateau Briand, Filet Mignon, Beef Bacon, Top Sirloin, and Dog Food are only a few of the items available to you and your family, health food stores and restaurants.